Interview with Breck Graduate Ramaud Chiaokhiao-Bowman
Ramaud Chiaokhiao Bowman graduated from Breck in 2016 and attended Northwestern University. At Breck, he played basketball, track, and football. During his football career atBreck, he played every position except offensive line and defensive line and went on to play wide receiver at Northwestern. 
During his time at Breck, Profe Malec was his advisor, and he is still in contact with her today, along with many other Breck faculty members. Bowman still remembers his favorite Breck lunch as chicken tenders. 
During his time at Northwestern, his favorite part was developing the Black Student-athlete Alliance (BSA), as he was one of the leading members. The BSA is a space for black student athletes to have their voices heard at a majority-white school. Bowman employed his platform to spread awareness, paving the way for continued growth in the BSA even after he left. He is now pursuing his football career living in Minnesota, and working hard, trying to get noticed. 
Q: Tell us about your football career at Northwestern and how did Breck football prepare you? And how did Breck prepare you for the academics at Northwestern?
A: At Northwestern my career was not what I dreamed of, in terms of yards and touchdowns. It was a great experience, to learn to fight for playing time and fight through injuries. Breck and Minnesota football isn't as rigorous as Northwestern and other parts of the country, so it was hard to make the switch. Balancing athletics and football was also difficult, but that is something Breck does a good job of teaching. I think of Northwestern as a bigger Breck, with the expectation that your work is always done. For me, Breck was 10x harder than at Northwestern. Breck helped with time management and balancing school and football.
Q: Explain your journey to the NFL. What adversity did you face and how did you get past that?
A: The same problems with coming out of Minnesota football were the same problems with going from Northwestern to the NFL. A small s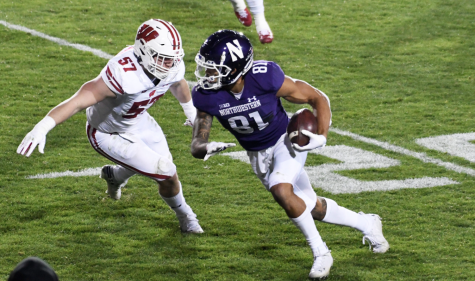 chool like Northwestern doesn't hold much weight, even as a Big 10 school, and overcoming the labels that the NFL put on me was a hard challenge. And during the little time I spent with the Indianapolis Colts, I had to overcome the standard that you have to go to a big school to get signed, because I played against big schools, like Ohio State and Michigan.
Q: What's some advice you would give to students wanting to play for D1 college athletics, more specifically football?
A: Get exposed to different levels of talent. You may feel like you have worked as hard as you possibly can during all the games this season, there's someone else putting in just as much work, and maybe even more. Try to get exposed to different football and different levels of football, attend camps and work hard to develop in the off-season. Having a school that holds more weight than Breck or a school that has a better football team gives people a better chance at getting exposed, so you have to keep working and training. 
Q: What are your plans for Football heading into the 2023 season? 
A: I am playing and training every day to stay in shape and on top of my game. I'm just coming out of an indoor league, where my team won the championship. I am also talking to the NFL and looking for a practice squad spot or roster spot. I stay on call and put in work every day, even while not getting paid and going days without a call, I have to stay persistent. I'm also looking at a league under the NFL, like the XFL or USFL, to showcase my abilities and try to get paid while training to get back into the NFL. 
Q: If you could play for any NFL team, who would it be?
A: I would take anybody who wanted me. But, if I could choose, I would probably play for the Vikings, because it would be cool to be on my hometown team. But, in the scheme of play type, the Los Angeles Rams or the Tennessee Titans. 
Leave a Comment