Seniors Win Big in Major Competitions
Amidst the looming deadlines of college applications and mountains of school work, two seniors, Zoe Roberts and Elena Bui, were focused on something else, though equally as monumental. Zoe competed in the Morgan Grand National and World Championship horse shows in Oklahoma City. Meanwhile, Elena traveled all the way to Europe to compete in the AmsterdaMMasters competition for rhythmic gymnastics. Both events were a milestone for these seniors as their successes reflected years of hard work.
While in Oklahoma, Zoe and her horses, Junior and Marty, competed in two events. Junior accompanied her in Saddle Seat Equitation, which is judged based on how the rider looks and how well they ride. Her second event was with Marty, a hunter-pleasure horse. This event is judged on how the horse looks, not the rider. While Zoe has been to this competition 3 times already, she still felt very nervous.
"I felt really confident, but still being at the World Championships, it's very nerve-wracking," she said. 
In the end, she won the National Championship and reserve World Champion for saddle seat equitation with Junior and Reserve National Championship with Marty. 
While Zoe has since aged out of equitation, she was glad to have competed for one last time. "It was a fun way to end my junior exhibitor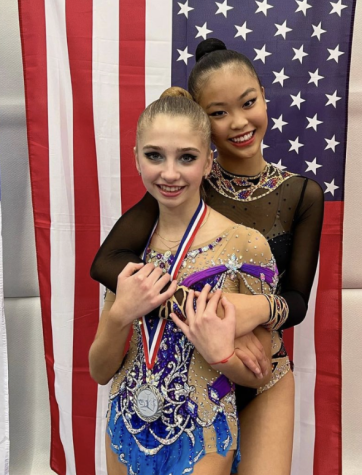 career," she said.
Elena Bui was also making waves at the AmsterdaMMasters international tournament. Over the course of five days, Elena trained and competed with the USA Gymnastics Federation team in the hoop, ball, clubs, and ribbon events. While Elena is no stranger to national competitions, this marked her first international one where she met gymnasts from all over the world, including Germany, Ukraine, and Hungary.
"It was really cool getting to know all these people from different countries, and we all share a common interest in rhythmic gymnastics," she said.
Elena qualified for finals the next day and ended up becoming one of the top eight finalists in the entire competition. While it's still up in the air if she continues with rhythmic gymnastics past high school, Elena says she's got more national competitions lined up for the spring and summer. 
Congratulations to Zoe Roberts and Elena Bui for doing so well in their respective competitions!
Leave a Comment