Thanksgiving Meal Controversy
Thanksgiving Meal Controversy
In the spirit of the holiday season, we sent a poll to the upper school student body to determine the long-held dispute about which Thanksgiving food is superior. With substantial participation from students, mashed potat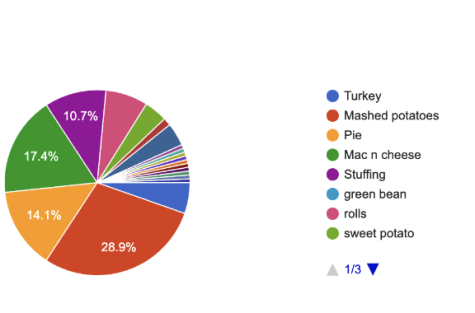 oes had a large lead with 28.9% of votes, winning the best Thanksgiving food. Mac and Cheese and stuffing followed with 17% and 14% of votes. Some students added their own favorite foods in the 'other' section of the google form such as: Oliver's salad, sushi, and our favorite, Grandma's carrot ring. To further our investigation on this hot topic, we interviewed students around the upper school.
How do you eat your Thanksgiving meal?
Michael Sweeney – '24
"I do it differently.  Best item on Thanksgiving dinner can't be described as one thing; it is simply a culinary masterpiece. This is my explanation of the Thanksgiving dinner roll. First put cranberry sauce on the inside of the bottom bun. Next, put a slice of turkey breast over the cranberry sauce, then add mashed potatoes and gravy, then stuffing on top of the gravy. This is because it will stick onto the gravy. As you're reading this you may think this sandwich is too big or won't fit inside the bun. But that's wrong because the second step after getting your bun is carving out the top of the bun so that you have room to put everything inside. This is simply the best collection of taste you can get on your palate for an all-in-one item for Thanksgiving. 
Mary Knoll – '25
Thanksgiving food is mid, I separate my food and I put a little mashed potatoes, turkey, gravy, and salad on my plate. Maybe a piece of bread. It really depends on the year. 
Waziri Lawal –  '23
My opinion is that turkey is overrated. It's really not that good. It's bad. My personal favorite Thanksgiving food would have to be the cornbread with a little bit of butter on top. It tastes really good. Thanksgiving this year was silent because I got in a fight with my brother but I enjoyed the food. Thanksgiving is mid in general.
Leave a Comment