On September 21, 2023, at 10:55 am, the first BNN was issued in the Upper School library with an attendance rate of the majority of the upper school student body.
They started the episode with an unexpected introduction into a well-liked couples therapy but there was no organized introduction, making it feel abrupt. Couples therapy lasted for about 5 minutes too long but nonetheless, it was still a crowd favorite with people laughing at the humiliated couple, Matthew and Kayla. After hearing ma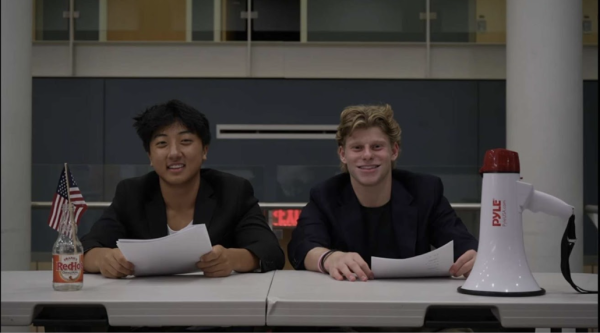 ny opinions about couples therapy, numerous times people said, "I couldn't hear them" and "The sound was muffled." Small clarifications in sound could have helped people hear everything and understand every joke. Another thing said about couples therapy is that it ran too long. Perhaps the editors could have cut it down a couple of minutes considering the skit took up most of the episode. 
Holding onto the theme of "love," we were then introduced to the cast of "Love Island" starring many of our favorite new aspiring senior actors. The seniors adapted into a new persona of a typical actor in a reality love show many of us watch. With new accents and personalities, the actors had everyone in the audience laughing as they each described their "type" matching what each stereotypical young adult in these love shows look for. Ollie Kadue said it best as he described he was looking for a "gyatt" in a British accent. This had everyone laughing along with the long-awaited coupling of Dylan Luebke and Ollie Kadue. Despite this idea being a repeat from last year… this skit had everyone laughing the whole time. 
After all the drama in Love Island came a TikTok by Ethan Pastor of our riveting student section of 6 people that popped out. This was relatable to every audience member as everyone knows the struggle of having a halfway-decent student section. Although this made many people laugh, it was quite random and confused some people.
Closing the episode came Sam Bae and Ethan pastor's outro starring the janitor and a recap of the episode. This part was well-liked by the audience and provided a final much-needed structure to the episode and a concluding ending with two entertaining seniors. 
Overall, we rate this episode a solid 8/10 as it was funny and had the majority of the audience laughing with each skit. We suggest adding new ideas instead of reusing the ones from last year, a more organized intro, and a more organized setup throughout the video. In closing, this BNN provided a solid first episode and a laughable break from the school day for each audience member.