The Aftermath of Hurricane Ian
The Aftermath of Hurricane Ian
On September 23rd, Hurricane Ian struck coastal Florida. Originating from a tropical wave on Africa's West coast, Ian has caused irreparable damage to coastal Florida, particularly Sanibel Island. By September 27, 12 counties in the Keys received orders to evacuate as the hurricane picked up and approached closer to the mainland. After Ian passed on October 2nd, the damage of the storm was estimated to be 67 billion, and the islands are still uninhabitable.
 One eyewitness bunkered in a condo complex described the extreme nature of the hurricane, explaining "We didn't do any swaying or anything, but a lot of the sliding doors and windows, they were moving, they were shaking" (Moore). Hurricane Ian was a Category 3 hurricane; this means it was extremely powerful, able to sustain speeds of 115 mph. Because of the powerful wind speeds of the hurricane, large objects such as cars and small boats were thrown into the air. The small size of the islands, in addition to many of the homes and condos being near the beaches, made them particularly dangerous places to be, and many people were caught off guard when their homes were hit. Most importantly, the single highway connecting the Keys to mainland Florida, the Florida Overseas Highway, was split in two by the hurricane. Essentially the lifeline for the islands, the destruction of the highway means complete uninhabitability of the islands for the foreseeable future. The most recent updates suggest rebuilding of the islands soon, but nothing is set in stone, and the future of the islands remains unclear.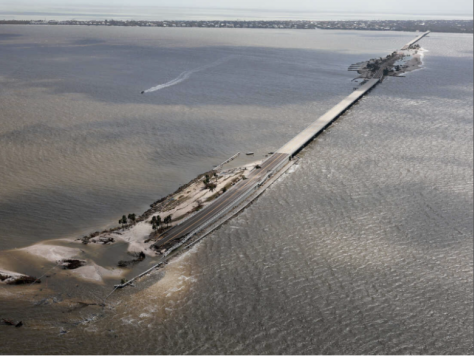 Update: The Sanibel Causeway, the bridge to Sanibel Island, is now functioning and the cleaning/rebuilding process is underway on the island.