Thoughts on Taylor Swift's Midnights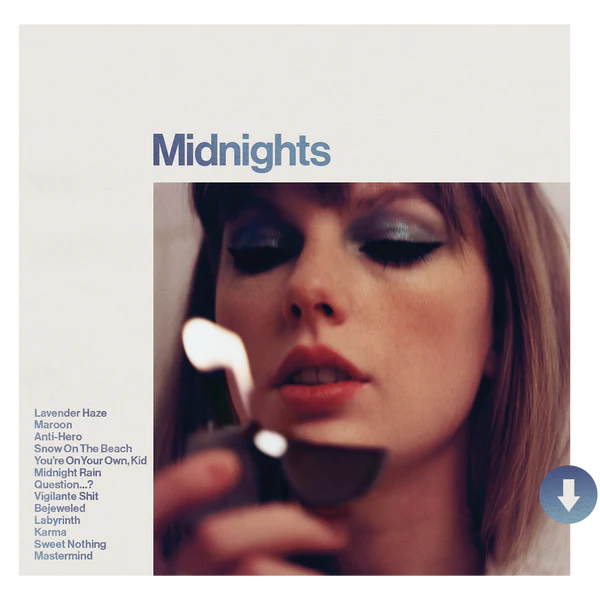 On October 21st, Taylor released her eleventh number-one album on the Billboard 200. Midnights represents "the stories of 13 sleepless nights scattered throughout my life" Taylor explains. The album has 13 songs, including a feature with Lana Del Rey. Some of the top tracks on the album are "Midnight Rain," "Bejeweled," and "Question…?" Many of the album's songs are also trending on Tik Tok. 
When I first listened to this album, I thought all the songs were very unique in their own way. I wasn't a huge fan of it, but if I had to pick a favorite it would be "Maroon." I didn't really connect with any of the other songs, so I went out to find other opinions. 
Annabelle Ellenbogen states that "It exceeded my expectations, even though my expectations are always very high for her" she goes on to say her favorite track is "You're On Your Own, Kid." Next, I Interviewed Lilia Yorkhall who had an opinion similar to mine. She says "There wasn't any song where I was like that's an amazing song" and "I wasn't blown away." I agree with her; The album felt like it was missing something. Stella Murphy comments on "Snow on The Beach" with the remark " I love the one with Lana Del Rey because it made my spirit lift" but then also notes "I didn't really hear her voice if I was being honest, it was just Taylor." 
Overall, I think everyone had a different opinion on the success of the album. The album was very Taylor Swift, complex, mysterious, and lyrically beautiful. You could hear how it was influenced by her other albums and eras. It was consistent with her level of talent, yet some believed it still needed something more. I recommend everyone listens to Midnights and decides for themselves how they feel about it.
Leave a Comment