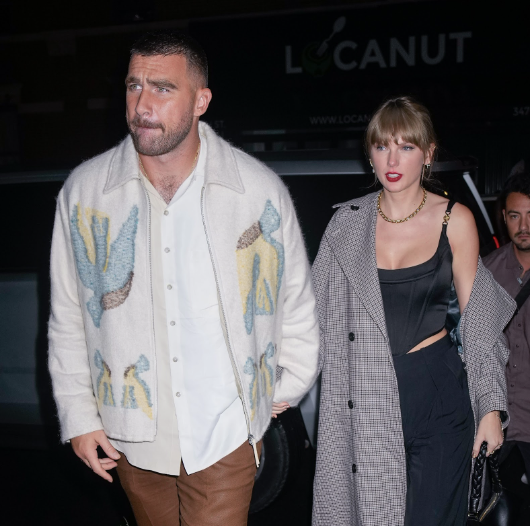 Taylor Swift, an international pop star, and Travis Kelce, a Kansas City Chiefs tight end, have taken the world by storm. As rumors swirled they finally confirmed they were dating when Swift attended the Chiefs' game against the Chicago Cubs on September 24th. At this game, Swift sat in Kelce's box and became besties with Mama Kelce. Since then there have been multiple more games Swift has graced with her presence and many more sightings of them out together. There has been great analysis of their lips and noses after smeared lipstick and rumored kisses. On October 23rd, a picture surfaced of Swift kissing Kelce on the cheek, and fans, mostly Swifties, have gone crazy. Swift was not in attendance at the October 29th Chiefs against the Broncos and, unfortunately, they lost. This played into the theory that Swift is Kelce's good luck charm. This theory was supported by the betterment of Kelce's statistics when Swift attended games.
Fans of both Travis Kelce and Taylor Swift are very invested in this relationship. Many Kelce fans are upset with how Swifties are claiming Kelce's fame is very reliant on Swift. NFL fans in general are upset with how many swifties are attributing the NFL's popularity to Taylor Swift's involvement with a Super Bowl-winning tight end. Swifties, on the other hand, are having a splendid time with Swift's and Kelce's relationship. 
There is much controversy surrounding the reality of Swift and Kelce's relationship. Many believe it is all a PR stunt to boost the NFL's, and Kelce's, popularity while introducing Taylor Swift, and her music, to NFL fans. Others believe that this is all real because, as one Swiftie told me, "Taylor would never be ingenuine like that. She's always real." There is a small percentage of people who believe that the relationship began as a PR stunt but has become honest. After hearing different views on social media, I took it upon myself to interview some people that I know. I interviewed 18 people and there was quite a bit of disagreement. Six people said that it is all a PR stunt and the whole relationship is fake because, as one person put it, "It's just such a random pairing and it makes way more sense for it to be a PR stunt." Eight people believe that it is a genuine relationship because of how authentic Swift and Kelce both seem. Four people told me that it was a PR stunt but they actually liked each other and are now dating for real because, as one of these people said, "They didn't need to kiss to pull off a PR stunt."
Taylor Swift and Travis Kelce are now one of the most scrutinized and admired celebrity power couples. They are each considered good people and there are many people who are big fans of both. Americans are very invested in their relationship and are excited to see where it goes.