Interview with Coach Sonie 
Mr. Sonie came to Breck this year. He is the boy's basketball coach and the learning coach, so he teaches one period of study skills in middle school. His favorite Breck lunch is tied between chicken alfredo and tacos. He loves the Breck tradition of community partnerships because he gets to give back to the community. His best memory of Breck so far was this summer meeting the basketball team and playing at the University of Minnesota. They also got to tour the locker room and stadium as a team. His favorite NBA player is Chris Paul because of his play type, and being an elite point guard, but his favorite team will always be the Memphis Grizzlies. Lastly, his favorite basketball shoe to play in is Kyrie Irvings. Here is Coach Sonie. 
What influenced you to come work at Breck, along with the coach here?
  The opportunity with the basketball program and meeting this year's captains, Waziri Lawal and William Walker. Hearing I had an opportunity to work in the building and coach was amazing.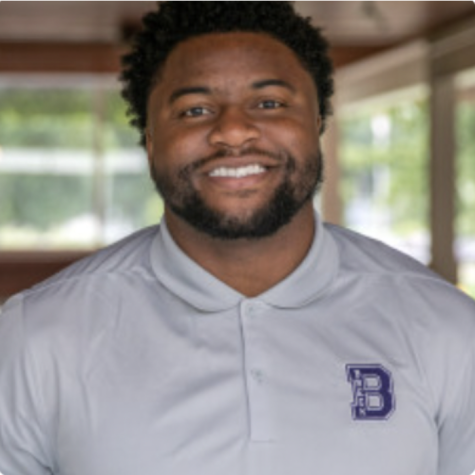 How many years did you play and coach basketball prior to Breck? And for what teams? 
I played through college, for 5 years, at Augsburg university, and I spent 2 and a half seasons coaching there. Before I coached at the college level I coached AAU for 7 years. A mixture of AAU, youth, college, and now high school. It's nice to settle into a head coaching position. 
What is your goal for the Breck Boys basketball team this year?
Having the team compete at a high level and making sure they are always playing and practicing at that high level consistently.
What are your plans to develop the boys to reach your goals this year? 
Practice really matters. There's a really talented group, so if those guys can push each other in practice, they can build that standard to compete at a high level. Over time it will show. The ultimate goal is to win the conference, win the section, and make it to state. 
Why are you a coach? What drew you in?
I loved the game as a player and when you get done, especially from the college level, you're wondering what to do next. It became a way to continue playing. Then, when I began creating relationships between players and team families, I realized the impact I could make and the relationships I could build with families and students.
Connecting to that, did anyone inspire you to coach? If so, who?
Yes, My college coach taught me the game. I had a really experienced coach, and the impact he had on me showed me how good coaching would be. It became more and more important to me with him being my coach.
Leave a Comment